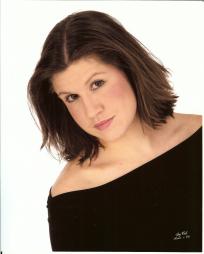 Amy Hlavaty Belcher has studied dance locally for the past 20 years and has been teaching students for the past 14 years.  Ms Belcher's extensive dance training has expanded to include studies with such notable teachers as Frank Hachett, Jeffery Ferguson, Karen Gayle, Jimmy Kitchler, Sue Samuels, Finis Jung, and Billie Angel. In addition, Amy attended private coaching sesssion in New York City with Catherine Kingsley, director of the Anglo-American Ballet and former performer with the Royal Ballet.   Amy regularly attends teaching seminars conducted by Rhee Gold, and she is a member of Sam Beckford's Studio Mastermind program.  She attended the Dance Teacher Web Training Program last summer in Las Vegas

Amy Hlavaty Belcher

Artistic Director

Among her many notable credits, Ms. Belcher had the honor of working with Paul Sorvino on the set of "The Trouble With Cali" where she was selected as the stand-in for Ms. Mira Sorvino who played the part of the ballet mistress in the film.  She also had the unique opportunity to assist with a short dance number that appears in the film. 

Ms. Belcher is a Summa Cum Laude Graduate of Marywood University and holds a Bachelor of Business Administration.  She has served as a member of the Board of Directors at United Neighborhood Centers where she was elected Board Secretary and Chairperson of the Personnel Committee.  Amy was also appointed to the Planning Committee for the Red Cross's 2006 Dinner Auction, and she is a former recipient of the Northeast Business Journal's Top 20 Under 40 Award.  Ms. Belcher served as the Event Planning Chairperson for POWER!,  planned Scranton's 2006 Fashion Weekend, and has been featured in the September 2007 issue of Happenings Magazaine.

Ms. Belcher strongly believes in sharing the gift of dance and strives to enhance the cultural enrichment of the area by organizing various community performances throughout the region.  The students of Arabesque Academy of Dancing have participated in several regional parades, and the studio is the winner of the 2005, 2006, & 2008 Grand Marshall's Award for their appearance in the Greater Scranton Jaycees Santa Parade.  While under Amy's direction, dancers have also had the opportunity to perform at LaFiesta Italiana, the Moscow Country Fair, the Greater Scranton Film Office Summer Film Event, the Harlem Globetrotters Basketball Game, and the City of Wilkes-Barre's Pirouettes in the Park.  In the past few years, Amy and her staff have performed at United Neighborhood Center's Mardi Gras, the Red Cross Dinner Auction, Leadership Lackawanna's Charity Basketball Game, the March of Dimes Walk America, and the Radisson Hotel's Princess Tea Party – all as a gift to the community.

Arabesque Academy of Dancing

"Motivating Young Minds To Be The Best They Can Be"


where she worked with notable teachers and choreographers from across the country.  She will be attending the seminar again this summer so that she can continue to develop new and interesting choreography for her students.  Amy is also working toward becomeing a certified member of Dance Educators of America