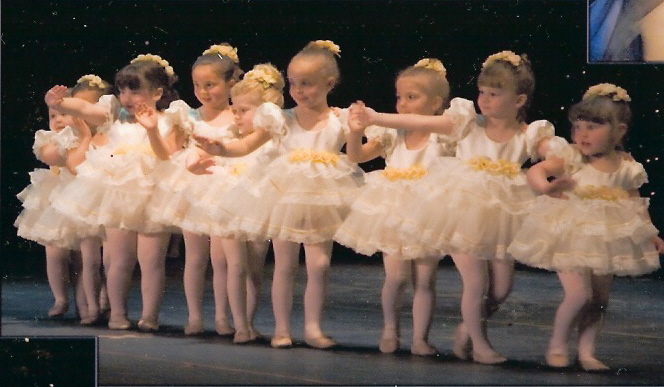 Arabesque Acaemy of Dancing

"Personalized Dance Training From A

Professional, Experienced, & Compassionate Staff"

Pre-Ballet

(Ages 3 – 7)

Widely recognized as the most appropriate dance experience for young children, pre-ballet classes explore the basic elements of movement such as the body awareness, fine motor skills, rhythm, basic coordination, and use of space. Classes also emphasize the utilization of each child's individual imagination and creativity as well as teaching them how to express themselves within a group. Our Pre-Ballet Program is great preparation for early socialization as our children learn many skills that they will need to operate effectively in various environments.  Some of these skills include taking turns, understanding a structured classroom setting, interpreting instructions, and easing the anxiety of parent-child separation.

It is strongly recommended, though not required, that all dancers study ballet for at least four years as preparation for or as accompaniment to the study of other dance styles. After the age of 11, students who have completed three years of training may study pointe on recommendation of the director.   Most students will naturally progress to this area of ballet, and it will be incorporated into their weekly class.  Students who are not prepared to progress to this level of dancing or those who are not permitted to do so by their parents will be placed in an appropriate class where they can continue to further their knowledge of ballet and learn to execute more advanced steps and footwork without the use of pointe shoes.

Ballet

(Ages 8 & up)

It is the philosophy of Arabesque Academy of Dancing, as of most dance professionals, that classical ballet training provides the best foundation for all forms of dance. This discipline develops beautiful and strong bodies through its emphasis on good posture and balanced development of strength and flexibility. It also builds confidence, poise, and strength of character while instilling an appreciation for the art of dance. Classical ballet training provides a sound technical foundation upon which further dance studies can be built, and it offers an aesthetic form of exercise through the use of barre and center work. Finally, this dance form provides the dance technique, the vocabulary, and terminologies used by other dance styles such as jazz, lyrical, and even tap, while providing the discipline and structure within which all dancers can express their individuality.

Arabesque Academy of Dancing

"Motivating Young Minds To Be The Best They Can Be"